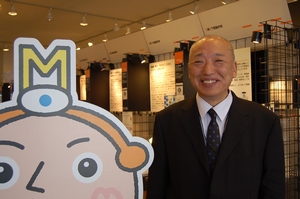 CEO Hamano is posing with a prince MOBIO at a MOBIO technology hall
--
Find out why and how presidents of MOBIO exhibitors have started "INNOVATION and CHALLENGE" through the special interview. No.35 is Mr. Hamano *** HI-TECHNOS CO., LTD. *** (link to Japnese page)
- A waste water treatment equipment using flocculants
The economical system with a shorter lead time - an ideal equipment for SMEs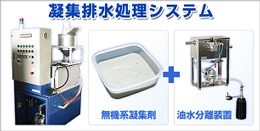 System = inorganic flocculant + oil separating machine
Developed the hybrid waste water treatment system, consisted of inorganic flocculant and oil separating system
Noticing flocculant reaction effect, Hamano designed the two step water treatment system. "I believe I have developed and can propose a suitable equipment to SMEs. A waste water is primarily condensed by flocculant agent at most part and is secondarily purified through a simple oil separation machine. Our system is considerably cost competitive comparing to a large plant system costing more than JPY 100 million," Hamano said.
Combining a flocculants with oil separating system, the new hybrid water treatment system was created. Because of economical operation, it attracted SME's attention nationwidely. Their entry model costs only JPY three million initially with monthly cost of flocculants JPY twenty thousand. So SMEs would be possible to install such an equipment at their premise.
Live purification of customer's turbid water is effective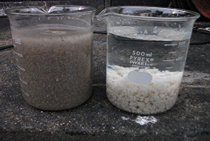 Quite obvious result
(Left) Waster water from a customer (Right) Treated by flocculant
Hamano said, "It is too much for SMEs to install an expensive equipment because their factories drain a little oil-water. It is like to put the cart before the horse if they could save environment, consumed corporate gains and faced a deficit. So we are approaching SMEs who are not considered as potential customers by large equipment companies. We will be Jerry in a cartoon of "Tom and Jerry" and always will be running around big Tom to solve issues of SMEs."
Whenever he needs to propose solution to customers, the marketing manager by nature Hamano makes it dramatically by his own style, called "amusing scientific experiment. "For senior CEOs or managers it doesn't ring the bell to explain by a PC or a tablet terminal. So I have asked them to bring their turbid oil-water in a container, then pour flocculants into it. Its water instantly is purified to become a clear water in front of them. And I hear voices 'Oh!' from customers. This live demonstration has no tricks and proves performance of our equipment," Hamano said.
Further development to separate non-oil contamination from turbid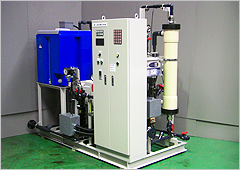 Regeneration system of grinding lubricant, HOF series
(Accepted by machining factories to extend lubricant product life)
Knowing their water treatment system, SME who needed to remove a heavy metal from turbid started call Hamano for help. He again "INNOVATED and CHALLENGED" to respond to market needs as a corporate strategy. "Applying the same principle of inorganic flocculant to collect suspended solid, we are now capable to condense any materials in a water as long as they carry a positive or negative charge. And we have responded to various treatment request other than oil separation", Hamano said. They have developed a heavy metal drainage system, a regeneration system of grinding lubricant, a flocculants for aluminum nitride with zeolite and etc. Lately they are asked to remove difficult to treat materials such as fluorine and boron. Their challenge continues. On top of flocculants, they are developing new products of adsorption or membrane filtration.
It is in line of Hamano's business plan. "Our dream is to establish a one-stop drainage solution business. From an inlet to an outlet of factory drainage, we would like to handle all of issues. As of today our business is to install a water treatment facility only and in future we will handle separated soil to dehydrate, dry and incinerate", Hamano said.
--
Interviewed on March 4, 2014