The young CEO Michino is transforming the corporate profile to the finished goods by introducing IT technology to integrate corporate strength and employees' skills.
--
Find out why and how presidents of MOBIO exhibitors have started
"INNOVATION and CHALLENGE" through the special interview
No.43 is Mr. Michino of ***OHMIYA CO., LTD.(Read more) ***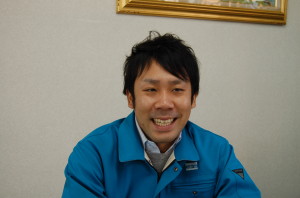 - Dry Fog Mist Humidifier, Metal plumbing fittings, Metal spray nozzles
●Aggressively promoted IT adoption
(Factory billboard) (Product Line-Ups)
For Michino it was quite sudden to take over CEO's responsibility in May 2014 due to his fathers' death and was a period of continuous challenge and innovation for him at OHMIYA since then.
When he started the new assignment he found operational tools were papers, faxes and paper notice. With the experience of his involvement in IT management at another company he started IT infrastructure establishment as the first step. Michino said, "I knew some members preferred to maintain classical style, however I firmly believed that nothing happens from hesitation. So I said 'Let's turn the ball!'".
He provided PCs to all office clerks, set up group sharing system and communicated by mail as much as possible. Next year he plans to provide all field marketing staff with tablet PCs and to modify corporate WEB site for easy down loading of product catalog data.
At factory site he noticed importance of bulletin notice and has improved its operation. "I have expanded number of bulletin board by three times for better and closer communication."
●Dry Fog Mist Humidifier-"COOL BEAM" is becoming popular
(Dry Fog Mist Humidifier-"COOL BEAM")
Michino considers "COOL BEAM" as their strategic product to promote, that was developed through their long manufacturing experience of metal spray nozzle. The outdoor humidifier is equipped with their exclusive nozzles and emits dry dew (20 to 30 micron drops) to decrease surrounding temperature by 2 to 4 centigrade without damping road. At their home town, nursing homes started to install as a prevention of heat stroke. "We will introduce our COOL BEAM to factories, construction site, dry cleaning shops, farmers, green house farmers, who may need dry humidifiers," Michino said.
The portable type is called "COOL BEAM-KOROKORO" and carries 20 Liter water tank. Michino said, "I am planning to develop more finished goods and have just opened the development department in October. And the first project will be remodeling "COOL BEAM-KOROKORO" to be the tank integrated type."
●New Marketing System and New Product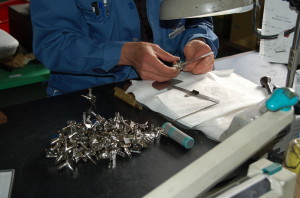 All of metal products are inspected before shipment
New account opening is Michino's another focus. He has recently started to sell farming tools through internet selling system. Michino said, "Farming sprayers have been used for longer period with frequent parts replacement than ordinary equipment. I noticed repeat order ratio of farming nozzles was quite higher. So I have decided to open the direct contact window to farmers for their conveniences."
Michino wishes to develop more "consumer oriented products" by utilizing their mist technology and firmly believes "Whenever OHMIYA introduces more eye-catching product, customers will nominate us as their supplier. Accordingly OHMIYA branded products will play an important role for the customers, distributors and our members."
--
Interviewed on December 10, 2014