MOBIO Café Meeting is an interactive session. On July 13, thanks to collaboration of the corporation (MATSUDA) and the R&D Institute (TRI), MOBIO Café Meeting was held outside of MOBIO Tech Hall, in Osaka city and Izumi city. Participants took a bus ride to visit both locations. The Meeting was designed for area companies to easily participate in the Meeting.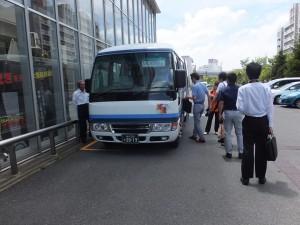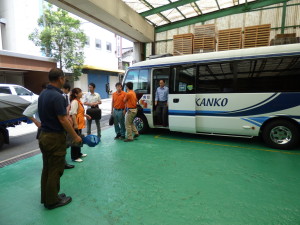 <Part One: Factory Visit>
MATSUDA CO., LTD. (Read on to find details)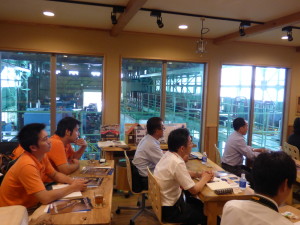 CEO Mr. Matsuda started his presentation from the employees' singing video in the wooded room at cold headed parts factory. He explained their effort, called "New Value Creation", to transfer mass production base from standard parts to specialized parts by employing new technology development in advance. Its goal is to introduce "Material Base Development", including:
●Parts and material development from VE point of view
(cemented carbide at necessary portion only, normal steel at others)
Developed two core technologies:
1) Solid phase bonding technology for expensive raw materials used where it is easily worn down and different materials.
2) Surface reforming of cemented carbide by plasma laser hybrid spraying.
And applied those technologies to in-house tooling for manufacturing cemented carbide mold and for reusing mold.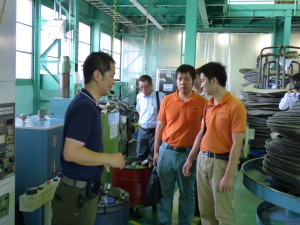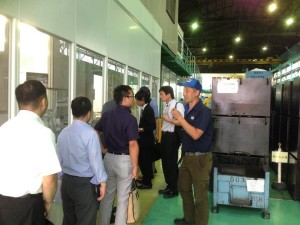 ●Branded products
Another challenge is to develop B to C business. One of them is a metal block "META ROCK" for adult to be released in 2016.
** MATSUDA is promoting proposal base marketing as "Crush simply and effectively than machine cutting" and started "T type" collaborative marketing.
●HR development
The key factor of MATSUDA's challenge is company staff. To assist HR development it uses group training organized by its affiliated company, Osaka Caos. Although MATSUDA is a SME, it is possible to offer competitive rookie training program and to let them identify group member from several companies as a class mate.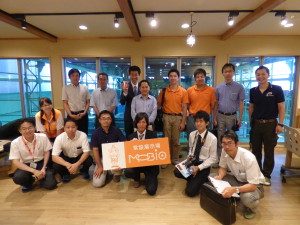 *** Its presentation started from technology and ended in HR development, that is surprising input to participants.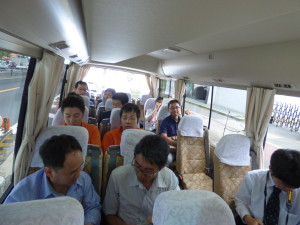 Business discussion continued during bus ride from MATSUDA to TRI.
<Part Two: Research and Development Institute Visit>
Technology Research Institute of Osaka Prefecture (Read on to find details)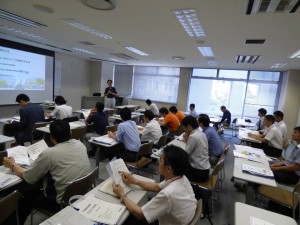 Machinery of Osaka TRI is available for all companies in Osaka Prefecture, Japan. Participants were introduced several testing devices:
●Prototyping operation
3D printer, 3D machining and related tools are available.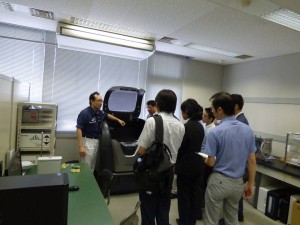 ●Non Destructive Inspection for internal structure inspection and failure analysis
An X-ray computed tomography scanner is available.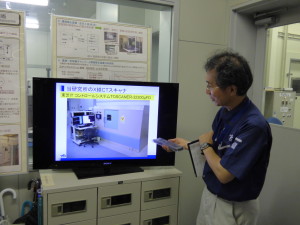 ●Earthquake resistance test, vibration test and impact test
A large vibration test device at an intensity of 7 on the Japanese seven‐stage seismic scale for machinery, a large compression test device for transport packages and an impact test device for cushioning are available.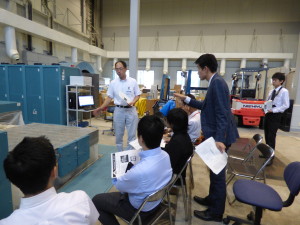 ** Much more technical assistance is available from TRI. Phone consultation as the first step is convenient.
<Part Three: Cross-Industry Meeting>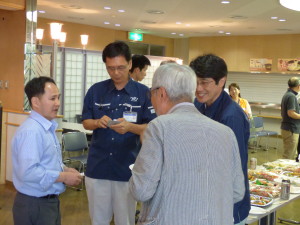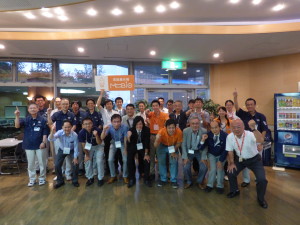 Following to the lab. tour participants started hands-on discussion with lab engineers and other company members. "How can you make it?", "How can I test products for this purpose?" ... and made lots of groups with laughs. It must bring another link for future business.
***
"Take a bus ride, take a factory/lab tour". July 13 tour was informative for all participants. It must bring another link for future business for participants.
****** Coming up the next MOBIO Cafe Meeting "Tohoku meets Osaka"
Date: July 24 from 17:00 at MOBIO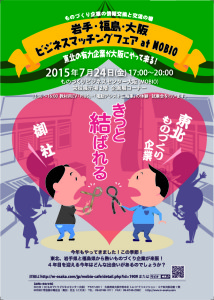 To be presented by: 12 companies from Tohoku Special Exhibition
(Iwate Pref.)
1. Ishimura Industry Co., Ltd.: Iron Stove
2. Eiwa Corporation: New Cobalt Alloy
3. Fe-Nix Corporation: Large Iron Bolts
4. Yamagishi Industry: Hybrid Emergency Generators and Power-Assisted Tricycles
5. OIGEN Foundry Co., Ltd: Cast Iron Pans
6. Sasaki Print Ltd.: Mount-Sheet-Less Seal Label
7. MODI Corporation: Electric Model Car
(Fukushima Pref.)
8. Aizu Kojyo Co.Ltd.: H-Process Casting System
9. Tamagawa Engineering Co., Ltd.: Radio Frequency Heating Apparatus
10. TOHOKU RHYTHM Co., Ltd.: Plastic Injection Mold
11. JUKI AIZU CORPORATION: Lost Wax Casting
12. AKATSUKI-SEIKI CO.,LTD.: Machining and Heat Treatment