"WOW! MOBIO started something new" was mentioned at June trade fair in Tokyo.
<OSAKA's Eye-Opening Activities>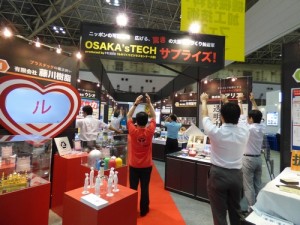 At a.m. 10 a.m. and p.m. 3, it started suddenly at June Tokyo trade fair. Relaxing exercise was demonstrated by all Team MOBIO members at the booth and prevailed other booths day by day. Team MOBIO sent "SURPRISE" to the fair participants. Aug. 5 MOBIO Cafe Meeting started from VIDEO message by Mr. Esaki who organized MOBIO booth production.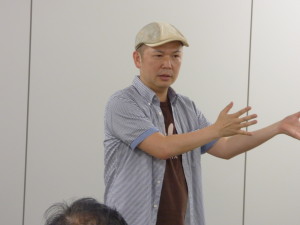 <Product Presentation>
Catch phrase at the M-TECH fair: Defiantly Casting
The casting specialist moved to a new location last May, increasing production capacity by double. On top of high quality Water Shutoff Valves used widely by Japanese municipalities, KOMEI is expanding product items to other industry markets from their core water supply business.
Catch phrase at the M-TECH fair: Creative Prototyping
ARICE's transparent parts at high standard are manufactured by use of 3-axis machining center and additional touch by craftsman. Its transparency with no distortions is specially useful at visualized product model made of polycarbonate resin.
SENSHO CO., LTD.
Catch phrase at the M-TECH fair: Customer's Useful Plating
SENSHO provides variety of plating technologies by plating materials and size. Largest level size in Osaka! 2000 mm at nickel chrome plating, 3000 mm at gloss tin plating, 4000 mm at hard chrome plating.
SUISAKU CORPORATION
Catch phrase at the M-TECH fair: Vibration Protecting Metal
SUISAKU developed an exclusive metal to protect equipment from any vibration, called RASK, made of three layer porous metals. It works as same as rubber and is possible to fix by nuts and bolts. Because it is simple to install, installation period is shorter and saves production cost.
SANKO PLATING CO., LTD
Catch phrase at the M-TECH fair: Micro Parts Plating
SANKO is the Micro product galvanizing specialist by an exclusive production line for uniform plating. It is developing further technology of color plating to identify specific products at a glance on site and primer coating for painting, adding to rust proof treatment.
IGETA, INC.
Catch phrase at the M-TECH fair: Idea Rich Wire Mesh
IGETA is specialized in welded wire mesh products. Because all intersection points are welded, they does not come loose even after processing. Welded wire meshes are widely used as materials for ground concrete construction work, fences at farms and mega solar power plant, and fryer basket for food restaurant. In Tokyo its wire mesh 'Tokyo Sky Tree' had attracted traffics.
DAIWA KASEI CO., LTD.
Catch phrase at the M-TECH fair: Future Life Style Creating Plastics
DAIWA is known as the world first metal resin bonding of a Li-ion battery sealing plate and the world No.1 supply track record of Li-ion battery gasket. Applying its advanced technology, it is capable to provide one stop services from planning to mass production of resinification and resin-metal bonding.
SAKAMOTO INDUSTRIES INC.
Catch phrase at the M-TECH fair: SUS Cleaning x Dyeing
By unique surface treating technology of stainless steel, SAKAMOTO developed pashipeto treatment to offer corrosion resistance at 20 time more than previous models, SP treatment to match fasteners to black or bronze color, Trio coat for loose-proof and leak-proof joint , filling slit by nylon resin and others.
FUJIKAWA PLASTICS CORPORATION
Catch phrase at the M-TECH fair: Plastics Magician
Naming "Magical Heart" and "Plastic Adviser", FUJIKAWA is changing its business category from a sub-contracting factory to a R&D-oriented company in the injection industry. Utilizing its new 3D printer, it started new paper related business by developing a mold.
Catch phrase at the M-TECH fair: Disposable Mold!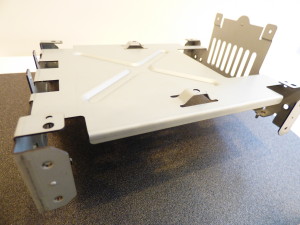 By effectively use of layered molds USHIO responds to market demand to develop samples with a shorter schedule at a limited quantity.
<Cross-Industry Meeting>
'Tell me more!' Frank discussuin continued with drinks.
The special exhibition "OSAKA's TECH Surprise" continues till August 28. Stop at MOBIO to study display products!
***
Upcoming MOBIO Cafe Meeting (Read more)
Date: August 20
Time: From 18:00
Presentation: Three Exhibitors
1) MEIKO MACHINE CO., LTD. - Machine tool peripheral equipment
2) Nihon DSP Limited Company - Adjusters with casters
3) JAPAN ENGINE VALVE MFG.CO.,LTD. - Engine valves and guides
See you at MOBIO!