From stage equipment to rocket launch pads, Makishinko's unique gear transmission technology provides reliable support to various industries; from automobile to ship, medical equipment, solar cell panels and etc.

Display at SME Fair in Kaisai 2013
●MOBIO seminar assisted us to improve display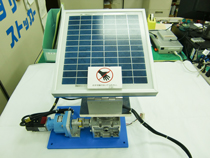 Demonstration of solar cell panel control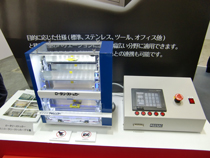 Demonstration of vertical rotary automated storage by a miniature kit
At display planning "A tutor's suggestion at MOBIO seminar was very informative." Shi says.
"We used to leave display planning and preparation to the design company and had no detailed idea. However this time we could prepare display production from the scratch and have noticed difficulties and improved our display skills." At catch phrase review, it was same. He could understand points of phrase creation by receiving tutor's advice to make it shorter and use copy effectively.
"It was totally new experience for me to participate in the joint booth with ten companies from display preparation stage. We shared given information and worked as a one team. I am satisfied to have created a new display." says Shi.
Their display consisted of three core products; worm reduction gear, solar cell panel controller and rotary stock shelves. "We could inform the visitors of a worm gear versatile manufacturer-Makishinko".
●The good kick-off to step to the next stage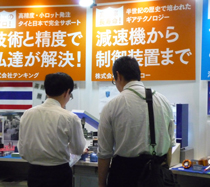 Almost a 70% of visitors has seen the rotary stock shelves first time and shown great interest. Actually from one of the visitors they have received inquiry and have already visited with a quotation.
Shi considers the show very positively, "There must be more business opportunities for us. We need to cultivate potential customers. In that sense the trade fair for the general audience is very good to introduce our technology for the fresh visitors. I do hope its information will prevail in their company."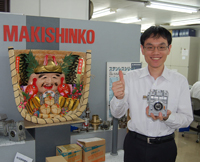 "Next time we will display a worm gear application product for easily understanding of peformance. If we were requested to partcipate the show again, we will surely join the game." says Shi.
Some time soon they will display their new demonstration product -the carousel sushi bar unit, in the trade show.
Interviewed on July 3, 2013.