"Tackle every challenge without being afraid of failure" and "Challenge your own limits" were frequently mentioned during the interview. Knowing craftsmanship of the newcomer cannot catch up with forerunners easily, Sakaida has continuously invested in facility renovation. That's how he maintains his business policy, "NEVER SAY NO TO CUSTOMERS REQUEST". Sakaida is the engine of corporate growth.
--
Find out why and how presidents of MOBIO exhibitors have started
"INNOVATION and CHALLENGE" through the special interview
No.39 is Mr. Sakaida of *** KOKUYO ALUMINUM INDUSTRIAL CORPORATION (Read more) ***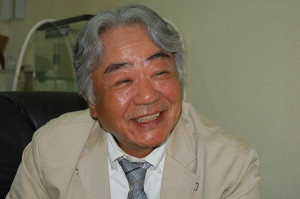 - Metal Spinning, 3D Laser Processing (cutting and welding), 2D Laser Processing
●New business style
Kokuyo entered spinning business as a follower and installed mechanical spinning system to distinguish from forerunners.
Sakaida could start supply litter bins and ash trays to an environmental equipment company , roasters to a grill meat chain restaurant, ash trays and litter bins for department stores and Japan National Railway.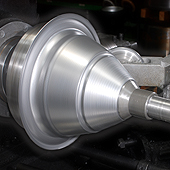 Sakaida recalled,"Manual spinning was supply oriented market. Prevailed artisan spirit did not respond to demand side request to shorten delivery schedule. Customers were asked to request anyone else for any changes. Under such condition, Kokuyo could shorten lead time and reduced cost by use of mechanical spinning machine. Because customers were tired of old business style, naturally they switched to source from Kokuyo."
●3D laser machine ignited continuous investment
When machine spinning business became in place, Kokuyo introduced 3D laser machine in 1995 when SME had not installed it at all and only a few large manufacturers could use them.
Sakaida mentioned, "I had invested JPY 80 million although our annual sales was JPY 200 only. And trade competitors gossiped that Kokuyo might go into bankrupt because of excessive investment. However I was quite confident to success because I had already noticed potential demand of production system without molds."
This venture was the initiation of the rapid growth of corporation. Kokuyo had received huge small order mix, which was too little to make molds for each production run. Moreover Kokuyo could have responded to customers' demand to supply with shorter lead time and at competitive cost. Half a year later their facility became in a full capacity.
Receiving versatile add-on request Kokuyo had set 2D laser machine, laser welding machine and etc. one after another. Accordingly Sakaida had established an integrated metal manufacturing operation as their convenient service for customers. Kokuyo's success has been brought by earlier installation of 3D laser machine and its return of investment on"first-come-first-served" basis. Sakaida had utilized its gain to install new equipment additionally and resulted in another profit as the front-runner.
His business strategy resulted in success. Kokuyo's sales had doubled each year and 7 years later its sales went up to JPY 500 million from JPY 50 million when Sakaida jointed Kokuyo. This success was widely reported by the national TV station as "the company who has increased sales by 10 times".
●Challenged hard-to-process order to identify the corporate capability
For Sakaida "challenge" means not to escape but to tackle every order even if it is hard-to-process. He said, "I always request our staffs to challenge their own limits. Knowing own capability and limits, we can make a tangible goal to improve our skills and visit customers with confidence."
The real capability must be shown in the fight hilt to hilt. Their daily effort has been proved to be efficient in case of national project. Even major companies declined the request, Kokuyo could had processed the experimental equipment and had been awarded by the orderer. Sakaida said "It was to process huge metal ball with 9 mm thick plate and was the very expensive unit. At that time I mentioned to our staffs to tackle it and leave all responsibilities to the company if they could not meet the request. It took a lot of time and attention to finish with a little profit, however our staffs could improve abilities and Kokuyo was known as the company who accepts any order that might be rejected by large companies."
●Another challenge
Sakaida seeks for further innovation at Kokuyo and is entering the new business category, Energy Business. He has opened a new factory by investing JPY 170 million and hired exclusive members in the Yao city (Osaka pref.). Although it is totally new business to Kokuyo, Sakaida has decided to start the new operation. "It must be quite thrilling. Sometimes we need stakes in our life!" Sakaida said very positively.
--
Interviewed on June 17, 2014