Find out why and how presidents of MOBIO exhibitors have started "INNOVATION and CHALLENGE" through the special interview.
No.46 is Mr. Kamata of *** GORIKI KOGYO CO., LTD. (Read on to find out details) ***
- Bobby pins, hair clips, hair pins
● Goriki's hair pin - The must item for hair stylists in Japan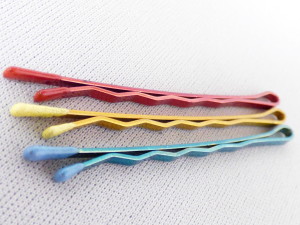 ▲More than 90% of color bobby pin market share in Japan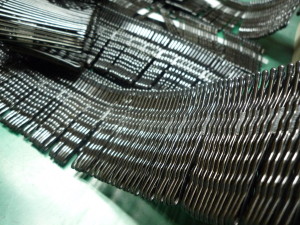 ▲Consumer models to distribute only through department stores in Japan, not through price oriented channel
Although Goriki is a SME in Japan, their 555 branded products are surprisingly used by most of professional hair stylists in Japan. And their market share of color bobby pins with closed tips is more than 90 percent in Japan. CEO Kamata said, "555 pins are highly appreciated at 30 to 50 percent price premium because durability of our pins are more than ten times comparing to others." He believes providing high quality products is the core of Goriki's success.
Another important factor at Goriki is export business. Developing suitable pins by hair type for the each nationality, Goriki is shipping 200 tons of hair pins each year. Presently more than 65 percent of their production is for export market and it means 555 pins are well-accepted globally.
Kamata continued to explain how he has operated hair pin business successfully.
● Dealing with difficult issues creates another opportunity to grow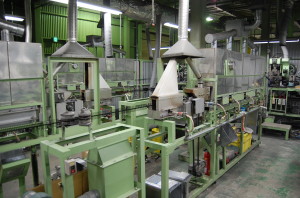 ▲Kamata developed the fully automated machine. Presently machines are in full capacity
When Goriki started hair pin production, there was no color hair pin manufacturer in Japan. Therefore Kamata needed to study and develop manufacturing system from the scratch overcoming difficulties.
- Elasticity
Bent wires tend to curve outward when they are quenched, instead of clipping. Kamata modified in-house wire drawing process to draw inner side of a wire softly and outer side hardly. And such a wire tends to bend inward when it is quenched, providing more grip for a 555 hair pin.
- Color coating
US stylists prefer to use colorful pins. Simple coating was not good enough for actual operation because thick coated part peeled off easily when it was used. And Kamata developed an exclusive coating method to color firstly by pigments or dyes and to quench after glazing. Color coating by this ONLY ONE process is resistant to hair treatment chemicals internationally.
- Automatic machine
When Japanese hair pin market grew, Goriki was requested to increase pin supply volume by improving production efficiency. Kamata responded to such a request to have developed the automatic hair pin manufacturing machine, the first in Japan. When wire roll is placed in place, it goes all the way automatically from pressing, cutting, coating to quenching. It assisted to expand market share of 555 pins drastically.
● Intellectual Property and Off-shore Market
▲Ready to export to overseas market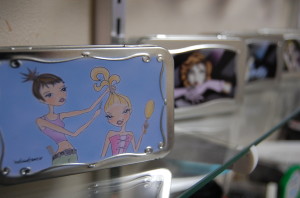 ▲New package fitting to the market needs
After the world war II Goriki started hair pin manufacturing as a pioneer company in Japan. Because they were requested to develop engineering technologies from the scratch, Kamata applied to register patent to protect their findings from others. And those patent registration worked as a safe guard effectively when other companies tried to enter hair pin business.
Goriki entered export business for US market from the corporate foundation. And their technology development has been initiated by the offshore market demand. Kamata said, "When it comes to beauty treatment, US demand is much more strict than that of Japan. Paying an intensive attention to sanitation and developing ball tipped pin structure to prevent scalp from cutting are some of our exclusivity. Our sincere effort to match to customers' voices naturally assisted us to produce some new engineering."
More than 40 years ago Goriki, headed by Kamata, established their business pillars, export and intellectual property. And still Kamata is looking for another change. He firmly said, "I am considering how to add more values to hair pins and would develop milky color coating with the use of new glaze. It is my dream for hair styling market to develop such a valuable 555 pin products that upgrade the dignity of their stores naturally."
--
Interviewed on February 12, 2015
To communicate directly with GORIKI KOGYO, please send your mesage from HERE!