Find out why and how presidents of MOBIO exhibitors started "INNOVATION and CHALLENGE" through the special interview. The latest "Meet the President" article is Mr. Hayashi of EMTOPIA, INC. (more info.)
- Styling models, Working models, Prototyping molds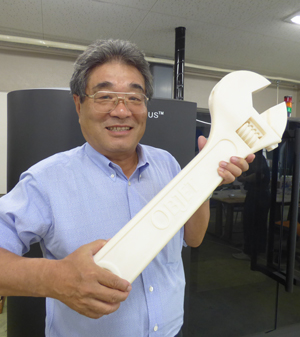 Through product development process it is imperative to bring prototype models to its project members for studying marketability and design concept.Therefore prototype models are one of the key factors for new products. Firms need high quality models for reviewal. That's why Emtopia is known as a reliable partner with product designers.

Emtopia provides with 3D design models, appearance design models by use of different materials (composite wood, resigns, metals) and functional design models by ABS, PC and POM. Year by year the industry has developed machineries and tools drastically to respond to every possible request and to create models. Emtopis is in line with such demading trend.
* Become designers' partner with latest machineries, tools and skills
 
For Hayashi it is basics and most important to foresee industry's trend from the point of effective utilization of his equipment. Especially he is tackling to expand auto and medical related market. For auto business Emtopia is capable to offer various small samples such as interior parts, exterior parts, coated parts, printed parts, and large samples such as body design and bumper design. 
Hayashi is progressing its medical services, such as converting to 3D data from 2D DICOM data measured by CT or MRI. Application of this data is not only for hospital but for universities to create 3D models for student doctors training.

Hayashi started Emtopia with corporate catch "Faster, More Accurately, More Beatifully" in mind. And it came to the latest version " Become designers' partner" indicating more precise message to all staffs.Hayashi's challenge in the new business field continues.
--
Interviewed on July 11, 2017
Send your question or request from here to EMTOPIA, INC.