CEO Kurihara is holding coated plastic chips. One of their competitive technologies is to replicate plastic models of metals to fossils.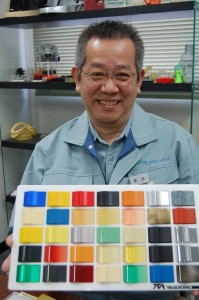 --
Find out why and how presidents of MOBIO exhibitors have started
"INNOVATION and CHALLENGE" through the special interview.
No.33 is Mr. Kurihara of ***TAISEI MONAC CO., LTD. (Read more) ***
- Industrial design models, Plastic prototypes, Vacuum injection molded products
●Carried out M&A targeting to develop new business
TAISEI MONAC had established their business plat form as small agricultural machinery manufacturer and started parts supply to the electric power tool factories from their new Chinese factory. 10 years ago Kurihara decided to take further steps by M&A program and has established new business sector, product modeling as a steering division of product development. "For the past 10 years our model marketing has been trial and error history. At MOBIO we display several new models expecting to encounter something new. It's a part of our 3 year strategy plan." Kurihara said.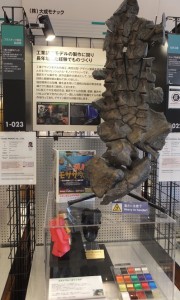 ●Exclusive modelling technique - Vacuum injection molding and color coating
The model division produces variety items from a fossil replica for a museum, a miniature body of a bullet train and model samples for an industrial market. Even at specialty market TAISE MONAC modelling division has survived under dull economic years because of two exclusive technologies.
One is vacuum injection molding that creates plastic resin models up to 15 or 20 pieces by silicone rubber mold without any metal mold. They have developed unique machinery reducing air bubbles at injection process and results in clear and shining samples when parts are assembled, that is unrivaled in the industry.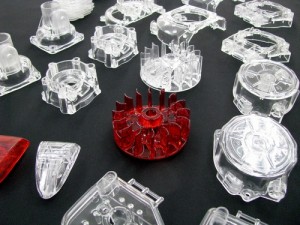 Kurihara said, "The other is coating technique. Manufactures may show new metal products at the product review meetings or at conferences. In such a case prototypes must be prepared quickly and must look as genuine as possible. So it is our business. Using plastic resign, our division forms and paints samples to make look like metal items. We are proud to have received a comment even by demanding companies that our plastic samples look better and beautiful much more than genuine metal items."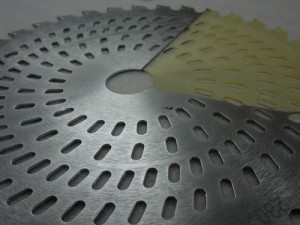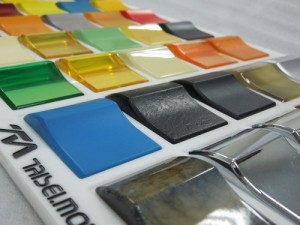 Coated "plastic" model. Compare the uncoated part to "metal like" part.
●New business development replacing silicone rubber and plastic resign with metals
Understanding corporate strength Kurihara set a new goal for modelling division to enter wider market from prototype market. It is their "Innovation and Challenge".
"It is the time to bring some results since 10 year's business record after a merger. So I am planning to switch business platform of modelling division from high-mix low-volume production by craftsmen work to medium-volume production with quicker delivery," Kurihara said.
As a management policy in 2013 he has invested the injection mold machine at China factory and the 3D printer and 3D scanner at Japan factory and informed all employees that he will never withhold modelling operation. Kurihara announced new strategy to enter high-mix medium-volume metallic parts production at shorter delivery schedule. Its market is considered to be too small and too quick to develop mold and manufacture. But Kurihara believes TAISEI MONAC is capable to develop mold in a few weeks by utilizing the metal 3D printer technology (to be installed soon) and their touch-up skills, away from traditional silicone rubber mold and plastic resin manipulation.
Kurihara said "When 15 figure models made by silicone rubber mold were well accepted ion the market and 100 figures were requested to produce, we are capable by our 3D printer, metal mold fabrication machinery and new injection machine in China. And I will further assist modeling sector by installing NC machine and MC machine in 2014. Moreover it is applicable for many agricultural equipment parts production even if annual requirement were only 300 pieces. This is totally new business model."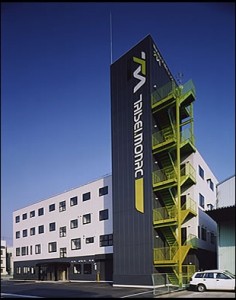 Factory in Japan
There is another aspect for this challenge. Kurihara tries to complete merger in real sense. Two companies had totally different corporate culture, energetic sportsman vs. dedicated craftsman.
"True merger comes only through re-start from the beginning as an one team-one TAISEI MONAC. For that I am planning to send modeling staff to overseas business trip and promote personnel exchange between divisions," Kurihara said. Kurihara leads innovation as the corporate second startup at the time of M&A 10 year anniversary.
--
Interviewed on February 5, 2014.