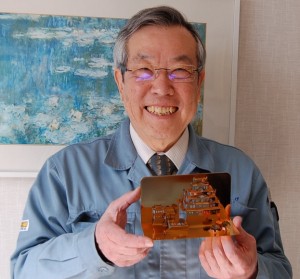 CEO Kimura is holding the golden popup OSAKA castle made of the metal plate
--
Find out why and how presidents of MOBIO exhibitors have started "INNOVATION and CHALLENGE" through the special interview. No.34 is Mr. Kimura *** EIGHT-TEC. CO., LTD. (Read more) ***
- Precision sheet metal stamping, Prototype manufacturing
"Yes I can do it" policy assisted Kimura to acquire necessary expertise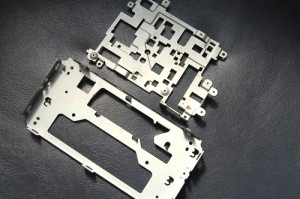 One of their stamped prototype model
The industry's leading custom stamping expert, EIGTH-TEC handles every aspect of metal stamping to produce precision-engineered metal stamping prototypes for electronics and medical equipment on a short delivery basis. Entering customer's 3D data or drawing data to CAD/CAM system, they operate laser processing machines, CNC turret punch presses and other modern equipment to create complex shape.
"Since every request is to design a completely custom made product, I wondered how to produce and then studied hardly to acquire expertise through OJT", Kimura explained.
After working as an engineer at a pipe manufacturing company he has established his company at the age of 43. When he was called to start his own company, he had confidence to win the game by using new machinery without any difficulties. When a PC was introduced in Japan, the young Kimura became a PC fan and made several computer programming by himself. Actually after the short lecture by the machinery companies he has learned all the rest by himself.
"From the company start-up every job was a valuable lesson to me. By accepting all requests (saying YES to customers) I could have acquired necessary business skills. And today what a man in the same trade is sometimes surprised to know I could make such a complex shape," Kimura said.
Competitive technology to produce micro-size metal stamping prototype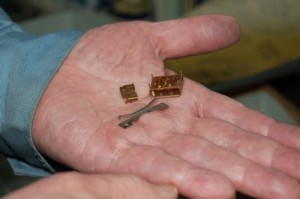 Samples of micro prototype
Out of many metal stamping prototype manufacturers EIGTH-TEC is capable to fabricate the order-to-make micro components by their exclusive technology. Digitally controlled machinery could not always make a tiny concave or convex finish, or a curved surface. At EIGHT-TEC they further use a manual press machine with the exclusive dies and tools to create any shape requested by customers. They have learned such an artisan's skil through on the job training.
Kimura said, "From the foundation of the company we had no marketing staffs but cultivated business only by an introduction or a reputation. Today about 70 percent of our business is from the irregular customers and there are no major accounts. In prototype production market, there are very few companies who are capable to produce micro stamping models. So even in a recession we receive orders continuously."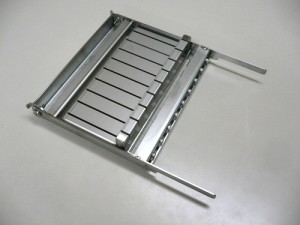 A Custom-made soap cutter, receiving orders from overseas
Lately many customers find EIGHT-TEC on a web site or a blogs and send and order via internet.
For example he has received a request to produce a cutter to divide a hand-made soap lump. Although he has no experience in soap production, he willingly accepted to develop the suitable product. Studying the production process on an internet Kimura has finally come to know possible solution to divide a soap by use of a piano wire. Then he just needed to ask a size of soap to the customer. As a result he has completed to the soap divider and the customer was quite satisfied. Now his effort was well known on the web and then custom made soap producers request the product on and on. He loves to develop something new.
Developing an original design unit to open an exclusive market
Kimura's basic policy of "Innovation and Challenge" is creating the originally designed products to avoid price competition, that will fit to the needs of the society.
The first product was the hypochlorous acid generator named "NatuLyzor ET". It is the 5 minutes electrolyzed water generator to sterilize a wide variety of harmful microorganisms including norovirus, colon bacilli, O-157 bacteria, and salmonella.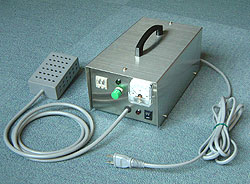 NatuLyzor ET
Utilizing its technology, Kimura is developing the next product to supply people in emerging countries outside Japan with safe drinking water by use of solar power generation, called "Mineraly", funded by the government of Japan. Its facility will purify and sterilize water of the reservoir at villages with no power source.
Kimura developed the sweeper prototype robot for the aquarium water tank. And then applying its hydraulic turbine technology, he is involved in a new project to design a micro water power generator to be kept at administrative organizations as a backup generator in case of a disaster.
"I am glad to establish the company. And Product manufacturing is a really fun to me!" Kimura said. On weekends he comes to the office and is willing to study new engineering technology or to enter operational data.
He proves "What one likes, one will do best." The original PC boy continues to make an attack.
--
Interviewed on February 26, 2014.